Here's What We're Doing on Day 3 of Tiffany Lambert's PLR Affiliate Profits Challenge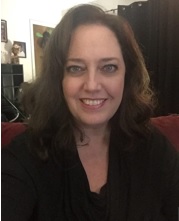 I hope you don't mind these updates on the PLR Affiliate Profits Course that I'm taking this week. I honestly haven't come across a marketer like Tiffany Lambert in a LONG time. She really delivers when it comes to practical information. In the online selling world, that's gold.
Here's a perfect example of what I mean. Yesterday I mentioned that you should probably have a good handle on blog or website development and list management if you want to keep up with this course. Well, Tiffany (pictured, left) proved me wrong on that count.
In yesterday's lesson, she included explicit instructions on how to install Wordpress yourself to start selling PLR articles via your blog. Then she explained how to add a sign-up form to your blog so you can begin building a list. It was a video tutorial and everything.
If you're a person who lets what you don't know stop you from achieving things as fast as you could, then you'll really appreciate Tiffany's courses. I think I spent probably years floundering around before I figured out how to use Aweber.com to grow my mailing list.
Day 1, Day 2, and Day 3's coursework from the PLR Affiliate Profits Challenge is accessible via a link on Tiffany Lambert's blog. All you need is the password to log in and begin learning. You can ask questions by posting a comment. And you can do the course entirely at your own pace.
(Like I said earlier, this costs less than $20... so cool!)
I'm getting excited for the part where we pitch to PLR Article buyers on the Warrior Forum. Of course, I can just do that on my own. But I know it's going to be so helpful having Tiffany's inside tips guiding me along.
Come on and sell some PLR articles with me! If you decide to do it, send me an email so we can network.