Day 5 of Tiffany Lambert's PLR Affiliate Profits Course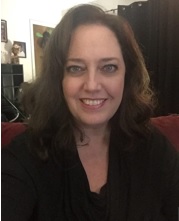 Tiffany Lambert (pictured left) continues to slay me with her over-the-shoulder tutorial of how to promote private label rights content on the web. This course is extremely budget-friendly. Frankly, there's so much value here it's mind-boggling.
I fell behind a bit with this course due to life circumstances. But that's okay because when you work online, you can play catch-up as time allows.
Yesterday, Tiffany took us through the methods she uses to search out quality PLR content that she can promote to her list; research the niche; write out a heads-up blog post to teach readers about the potential of this market and how they can profit via the upcoming PLR offer.
Even if you're already a practiced PLR seller, you can certainly learn new things following along with Tiffany.
If you're just seeing this now and had no idea there was a PLR profit course unfolding this week, it's not a problem. The lessons have been created on the fly, but each one will remain up on the site for latecomers to benefit from. So you can still buy and try, and then tell me what you're up to in your PLR selling endeavors.
That said, a general observation about Tiffany's courses is this. There's an added benefit to attending the first course as she creates it on the fly. This basically means that whatever questions come up in Lesson 1 (meaning from you and the other attendees), she will make an effort to address in Lesson 2 and so forth. So not only do you get clarification on any confusion you may have, but she may go even deeper with the lesson so you're sure to gain full understanding.
Of course, this also benefits the people who take the course after the fact, because it's been test-driven by the first group.
So really, you can't lose by learning how to earn money as a PLR affiliate when you sign up for Tiffany Lambert's butt-kicking e-course!