Create Awesome Business Coaching Programs with Done-for-You Ebook and Ecourse Content
Our 2017 Small Business Startup Guide PLR Pack 5 covers Online and In-Person Networking. It's the FIFTH pack in our ongoing Small Biz Startup Series
Searching for high quality business related content to grow your list and present as a free gift or paid ebook for your readers?
Need content that speaks to the business start-up and work-from-home crowd, to use in your coaching programs, workshops, and videos?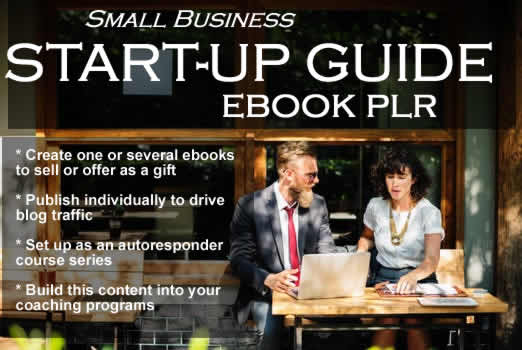 JUST RELEASED! Wordfeeder's Small Business Startup Guide PLR Pack 5: Online and In-Person Networking
Hi there, this is Dina of Wordfeeder PLR. I just finished uploading installment 5 of our ongoing Business Startup PLR series. It's all about how to network for success in your small business, both online and at in-person events.
If you've been picking up my comprehensive, ebook-ready, blog-ready and ecourse-ready business PLR content covering Small Business Start-up How-to, then you definitely will want to get your hands on this pack. Any of your readers, whether they are aspiring entrepreneurs or want work-from-home or freelance advice, will appreciate the tips, step by step advice and small biz how-to offered in this and all of the other packs I've uploaded to our member site.
Our Small Business Startup Guide ebook content now has a PLR Pack 5 that covers Online and In-Person Networking.
This pack contains a total of 4,048 words, including the following:
Why Bother Networking as a Small Business Owner
Online Networking Puts Your Small Business on the Map
Dip Your Toe in the Online Networking Waters
Facebook 101 for Small Businesses
What to Share On Your Facebook Business Page
What Not to Share on Your Business Page
LinkedIn 101 for Small Businesses
In-Person Networking for Small Business Owners
Before You Live-Network: Tips for Looking and Playing the Part of Professional\
Spoken Presentations and Ice Breaker How-To
Here's a screen shot sample of the content so you can review for quality: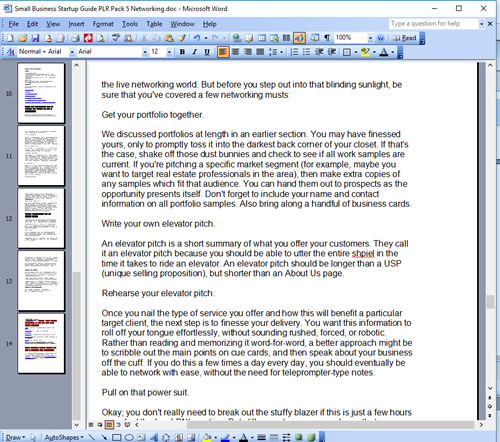 More Small Business Startup Ebook Content is Coming Soon!

I have much more business startup related content that I'm planning on adding on to this series. The end result of putting all the PLR together is a complete, comprehensive Small Business Startup E-Guide, and I encourage you to make it into exactly that if you think it's something your people would respond to and appreciate.
As with all of the PLR content I produce on Wordfeeder, I promise high quality information and exceptional writing.
Wordfeeder's Small Business Startup Guide PLR Pack 5 is just the beginning.
If you'd like to get your first taste of where to go with the Small Business Startup Guide PLR, then grab your copy of Pack 5 in the series (or any pack, we're up to 5 now, so you get your choice of pack 1, 2, 3, 4 or 5 at checkout). There is more content coming very soon, and I'm excited to get it out to you as soon as possible.
Originally $29
NOW ONLY $17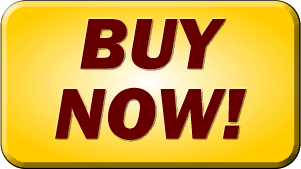 Please note: If you've not yet picked up our Small Business Startup Guide PLR Pack 1, Pack 2, Pack 3, Pack 4 OR Pack 5 you can do so right at checkout after clicking the BUY NOW button above.
How to Access Your Files:

Once your order processes, you will be asked to create a login to the Wordfeeder member site. Do this, then check your email for a confirmation, plus another email containing your delivery of the files.
If you have any questions or trouble with your download, email me and I'll get back to you as quickly as possible.
THANKS for supporting my freelance business. CHEERS to you in yours!