Hey, friends. I have another HOT Essential Oils topic for you to edit, brand and add to your blog so you can make boatloads of cash from this thriving sub-category of the Health and Wellness niche!
Essential Oils for Home and Personal Use: Non-Toxic Cleaning Recipes and Homemade Skincare Recipes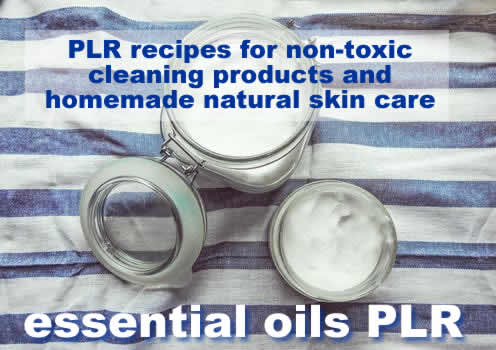 When I wrote this content, I tried to give a little leeway in the wording because I don't think anyone who would bother to make their own skincare products would sit there with measuring cups and spoons, fussing over exact amounts. I could be wrong about that, but if you feel more comfortable you can copy and paste the "ingredient lists" into a traditional recipe format. I did not. But there is a ton of great info here, with potential to link to all kinds of products, on Amazon, ClickBank, and of course from your own favorite essential oils company such as DoTerra or Young Living.
Another thing I did a little differently is that I actually put the words "link to Amazon product" in spots where I thought it'd be a good idea to promote something in particular. I hope that works for you. It does leave more of a chance of a copy and paste screwup, but hopefully you're a smart cookie so you can delete anything that doesn't belong, before sharing it on your blog.
All that said, let me give you my big schpiel on the market and why you should talk to them from your blog:
Here are some fast facts on the essential oils market:
As of 2015, the projected market share was 11.67 billion by the year 2022.
Global essential oil market demand was 165.0 kilo tons in 2014 and is expected to grow at a CAGR of 8.6% from 2015 to 2022.

Your health and wellness readers are part of this market share. Knowing this, I've created another set of informative articles for you to earn from online.
Word count is approximately 2,200. This private label rights content pack of essential oils PLR content contains the following.
Contents include:
PART 1: Sanitize, Deodorize With All Natural Cleaning Recipes Using Essential Oils
All Natural Lunch Box Disinfectant
Natural Garbage Pail Deodorizer and Disinfectant
Homemade Glass Cleaner for Windows, Mirrors and Picture Frames
Essential Oil Based Furniture Polish
Homemade Natural Wood Floor Cleaner
All Natural Room Air Freshener
Doggy Deodorizer
Homemade Nontoxic Abrasive Cleaner
PART 2: Essential Oils for Personal Use - Make Bath Products, Skincare Treatments, Facial Cleansers
Clary Sage Eye Compress
Coconut Oil Facial Cleanser
Oatmeal, Coconut Oil and Lavender Skin Soother
Lavender, Rose and Oatmeal Bath Soak
Essential Oil Bath Salts for Muscle Pain Relief
Homemade Clay Based Facial Cleanser or Mud Masks
All Natural, Homemade Cucumber Facial Cleanser
Homemade Apricot Almond Exfoliant Recipe
Honey Turmeric Facial Cleanser Recipe
Carrier Oil Facial Moisturizer Recipe
Banana Lemon Facial Cleanser Recipe

Here's a sample of the writing: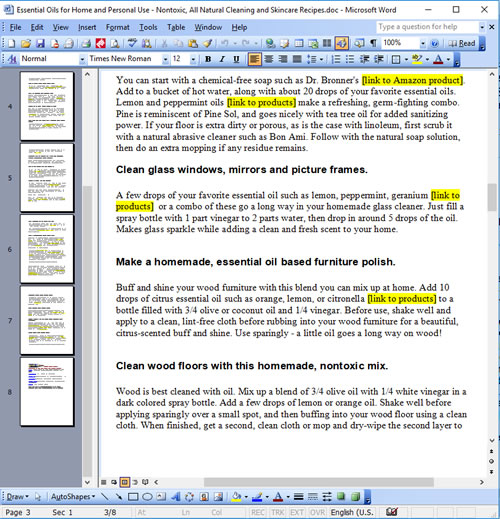 (You can see where I slipped in those prompts to add your own Amazon links for the products!)
Here's a quick profile of who you're trying to reach:
She's female - could be a 20s hipster, 30s and 40s natural mama, or woman in her 40s, 50s and 60s living the organic and natural lifestyle
Interested in holistic healing and wants to use essential oils to relieve a variety of ailments and conditions
Concerned about the future of our planet; exploring nontoxic and environmentally-friendly alternatives
Looking to lessen the use of toxic substances in her everyday life
Interests include organic gardening, green cleaning products, grass-fed pasture-raised meats, alternative energy sources
Does yoga, meditates, lives peacefully, enjoys the outdoors and practices mindfulness
Be one of the first to grab this deal!
Your files will arrive instantly via email upon receipt of online payment. If you have any trouble, please contact us. You will be able to access your files from the members area of our site each time you log in.
regularly $10

NOW ONLY $7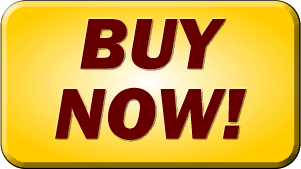 THANKS for purchasing PLR content from Wordfeeder. I hope you find value in this excellent quality essential oils content that I've created for you. And THANK YOU for supporting my freelance business. CHEERS to you in yours!
---